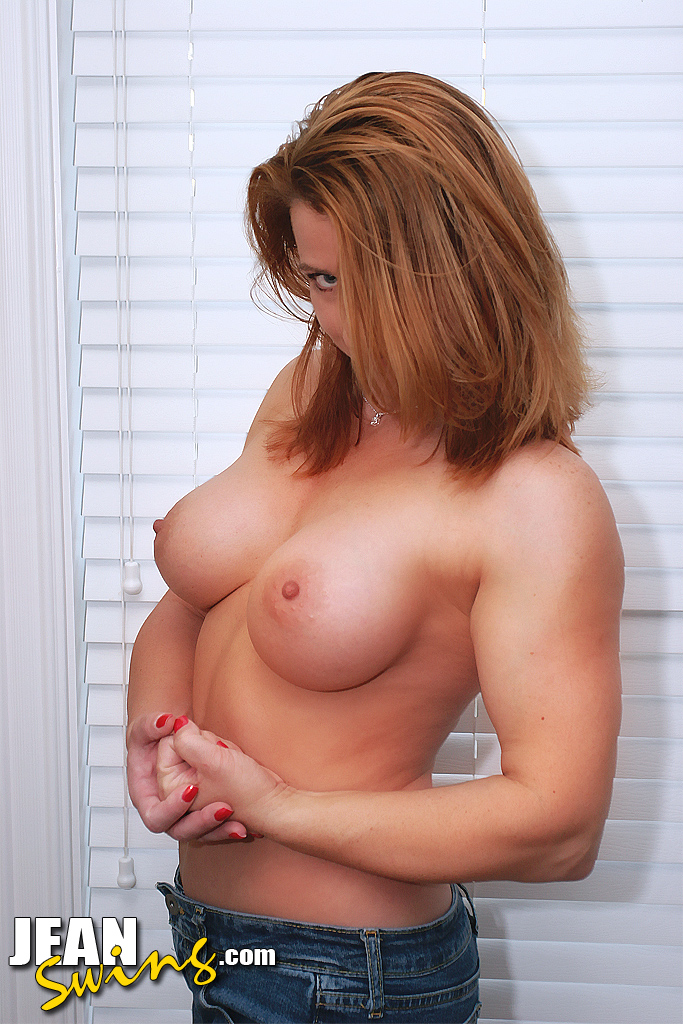 ABOUT ME
Name: Jean Swing
Age: Girls Don't Tell :)
Measurements: 34DD-26-36
Height: 5'5"
Eyes: Blue
Hair: Red
Body Type: Athletic

Turn-ons: Sucking Cocks, Gangbangs, sex in public, using my strap-on, having my ass spanked, my nipples pinched, creampies, and anal!
Fantasies: Being tied down in a room full of well-hung black and white men (that I have no idea of who they are) doing whatever they want to me while I am blindfolded, while my husband watches, and then fills me up with his cum afterwards.
MY STORY
Hi, I'm Jean and welcome to my Site. My hubby Wayne put this site together for me back in 1999. I was completely new to all this web stuff.
I used to lead a pretty typical life. I had an office job... in by 9 out by 5. The boss didn't know anything about this. :) Most of my friends and neighbors think I'm a pretty innocent little girl...hehehe... little do they know.

Wayne and I have been into swinging with other guys, girls, and couples for several years now.
I get asked a lot about what made me want to do a website. About 6 months after Wayne and I met we started confiding in each other about our sexual fantasies. I told Wayne about me having sex with another girl. I also told him about the first guy I had sex with and how big his cock was. He told me he would love to have another guy help fill my pussy and double penetrate me.
After talking about it for a while I was so turned on thinking about Wayne and another guy taking turns on me. It made me have butterflies in my stomach like a virgin having sex for the first time.
We talked about this for a month and we definitely were eager to find another guy to help Wayne fuck me, but who would it be? I had David, one of my guy friends I had known for several years come over one night and hang out with us.
I got David a little drunk and started foundling him right in front of Wayne. He was a little nervous at first because he wasn't sure what Wayne would think. David was sitting in a kitchen chair and I straddled his lap. I leaned over slowly and started biting his neck as I ground my hips back and forth on him. I could feel his cock getting harder. Wayne sat across from us and watched our every move.
That night was probably the most sexual fun I ever had. Wayne and David took turns repeatedly fucking my pussy. I can't even remember how many loads of cum I took in my ass and pussy as they used me like some tramp... <smile> but I loved every minute of it.
Every since that night with David, Wayne and I have been looking for new guys to fuck me. There weren't any decent swing clubs in our area and we didn't know exactly where to find poeple, but then we found the internet.
We started off on AOL back in 1994 looking for some new studs to fill me full of cum. We arranged meetings with several guys on there. Each would have their turn shooting their hot load of cum inside me. I would get so excited bringing these guys back to our place and fucking them :) Thanks Adam for helping Wayne with my first double pussy penetration ;)
After getting some very good responses from our photos and many requests to meet we decided to do this website. I've had so much fun and have meet many hot men, women, and couples.
FAQ (Frequently Asked Questions)
Q. How can I have sex with you?
A. This is by far the number one question I get asked. The short answer is, get to know me. If your first email to me is asking to have sex, that sounds desperate. You don't have to be a model or have a super big cock, a great personality is what I find attractive. Of course good looking and a big cock sure does help :) Be sure to check out my "Meet Me" page.
Q. Where are you from?
A. I'm currently residing on the East Coast :)
Q. I see you doing a lot of creampies, aren't you scared of getting pregnant or catching STD's.
A. I'm pretty selective about who I choose to have sex with, thus the reason I like to get to know you. All but my closest friends must provide me with an STD test before we hook up. I get checked every year and I expect the people I sleep with to do the same.
Q. What is the wildest, kinkiest, dirtiest nastiest sex you like would like to do? (from a tumblr fan)
A. What I fantasize about doing is insanely reckless. I think it would be super hot to visit the local adult bookstore wearing something very slutty, then head into a booth with holes (gloryholes), then start sucking and fucking as many cocks as I can for about two hours. I'd love to take 20 - 30 loads in my pussy, ass, and mouth. No clean up between loads, each new cock gets my sloppy cunt filled with cum. Now that would be super hot, I just got all wet thinking about it. I wish their was a safe way to do it without the risk of STD's.
I have some more interviews and frequently asked questions in my members area. Feel free to send me your quesitons on Tumblr and perhaps I'll answer them here.